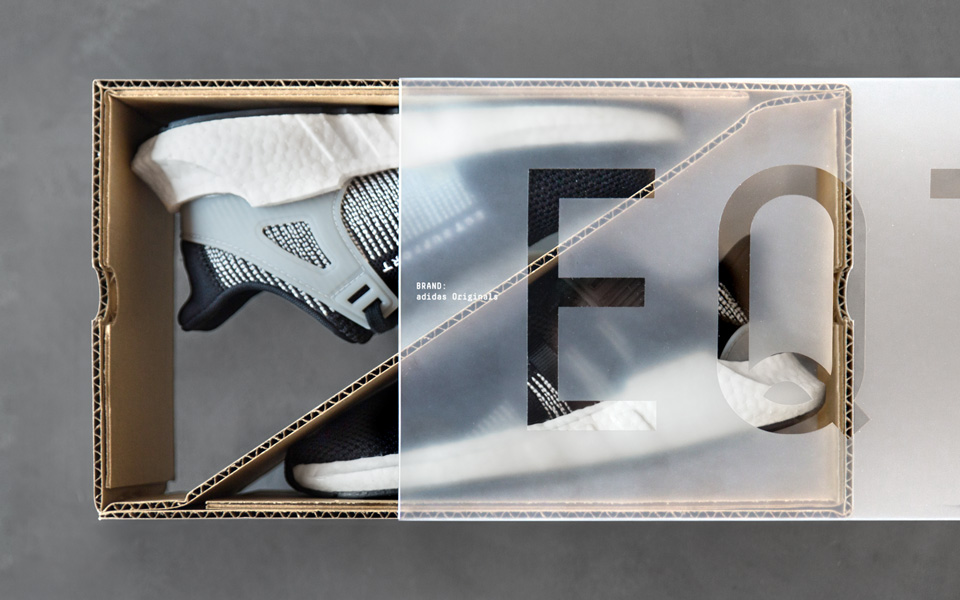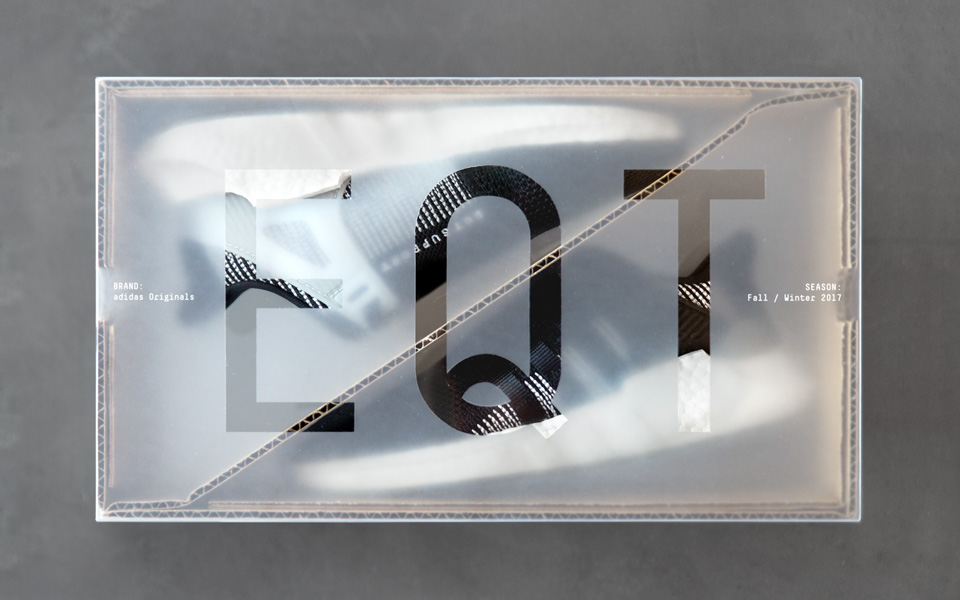 Packaging based on the guiding philosophy of adidas EQT: "Everything that is essential. Nothing that is not."
The core structure is created from a single piece of folded corrugate.
adidas EQT FW17 — Creative Direction: David Waters, Production: Heather M. Bonn Tomas, Fabrication: Pictura Graphics, Photography: Kellen Renstrom
Packaging — With Latitude for adidas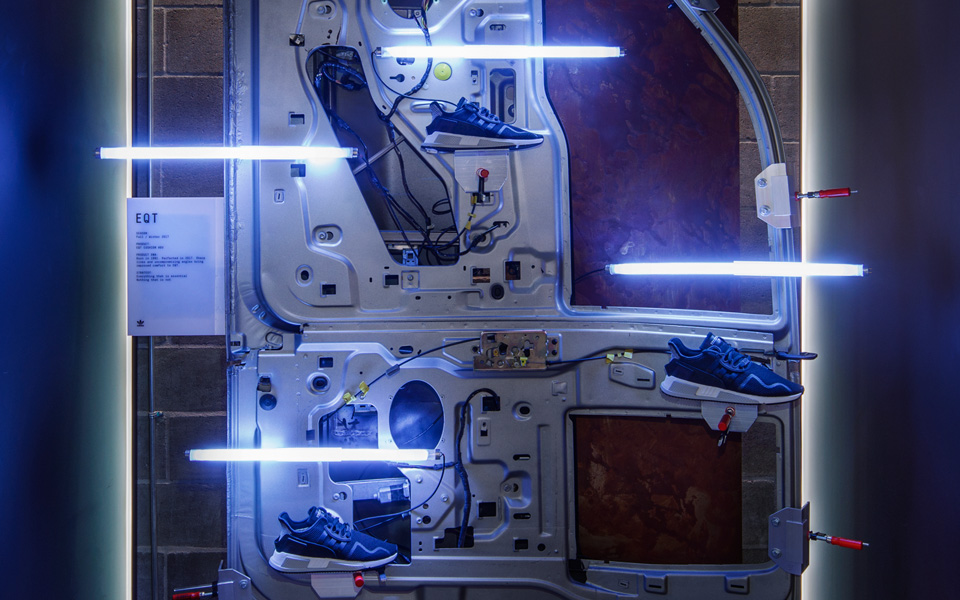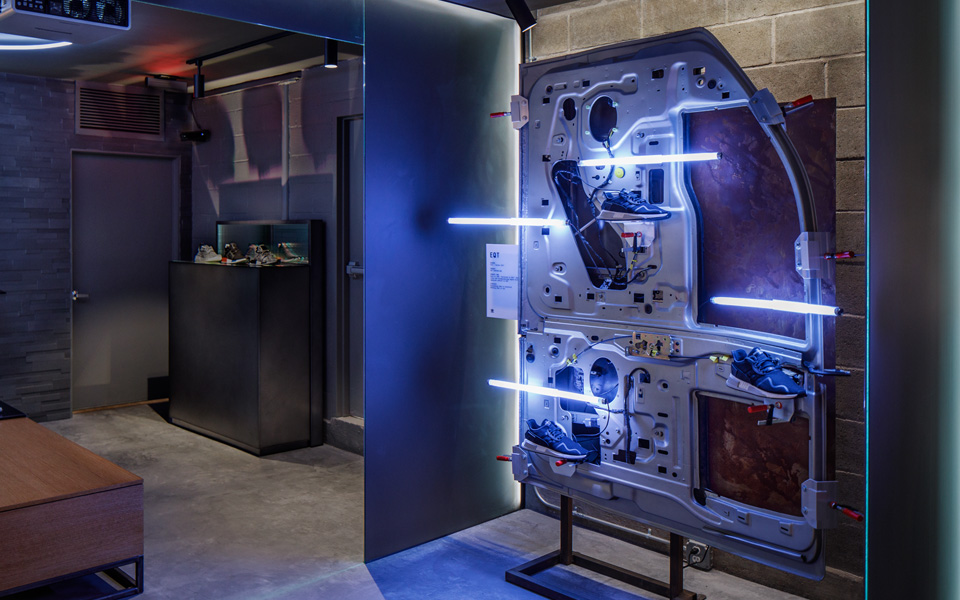 The adidas EQT FW17 campaign pays tribute to the city of Detroit. I designed an installation at Concepts for the launch.
adidas EQT FW17 — Creative Direction: David Waters, Production: Steve DeLorme, Fabrication: MNFX, Photography: Bob O'Connor
Spatial — With Latitude for adidas
I designed an art book cover, refined the layout, and helped translate to digital. View
League of Legends Art Book — Creative Direction: Shawna Davis, Art Direction and Design: Regina Ruperto
Print, Digital — With All Boats Rise for Riot Games
I created the title installation and catalogue for an exhibition focusing on photographic collage and impermanence.
As viewers walk down the hallway toward the gallery entrance, the letter fragments begin to solidify. Just as they enter the gallery, the pieces come together to create the fleeting illusion of readability. A couple steps after they enter, the illusion is gone.
Residual Reality
Exhibition — For University of Wisconsin Eau Claire
I hypothetically rebranded an organization fighting to preserve the temperate rainforests in Alaska.
Rainforests are categorized by an annual precipitation of 68 to 78 inches. The only difference between a tropical rainforest and a temperate one is the temperature. Although the coastal temperate rainforests of Alaska don't receive as much attention as those in the Amazon, they are still every bit as important and every bit as endangered.
Alaska Conservation Society
Identity — Student Work
I branded a multi-disciplinary designer by using the visual identity as a container for the types of work being done.
The business card uses the identity to hold contact information. I left the other side empty for the notes that invariably get scribbled when people give out their cards.
When visitors scroll through the site, the disciplines come together to reinforce the visual identity.
Carter Blackwell Industrial Design
Identity, Digital
Visitors experience retinal damage through photochemical injury. View
Part of an ongoing series surrounding solar retinopathy and gazing into the sun.
I sold an exhibition edition on a custom, stripped-down usb drive.
Sunbathing
Digital, Exhibition
Hand-painted white acrylic on Hanes Men's EcoSmart Medium Weight Fleece Crew Neck Sweatshirt.
Supreme Bootleg
Apparel
I created an identity for an antique and consignment shop, but ultimately the client decided to postpone rebranding.
The stylized H is based on a Persian rug motif, which has been used as the unofficial logo since 1926.
Hatfields
Identity — Spec Work
A pamphlet, zine, employee handbook, playbill, and exhibition catalogue.
Publications
Print — For University of Wisconsin Eau Claire, Amigos Publishing, National Presto
I created a modular grid of text, patterns, and photos that worked across print and web.
RISD by Design — Art Direction: Kate Blackwell
Identity — With and for Rhode Island School of Design
Each letterform is made from a single gilded band that wraps endlessly around itself.
Stimulus Package
Typeface
I created a print for Molly Joy Ortner's Florida collection.
Florida Collection
Apparel — Creative Direction: Molly Joy Ortner, Design: Molly Joy Ortner, Photography: Unknown
I worked as art director for the University of Wisconsin Eau Claire's literary and arts publication.
NOTA
Print — For University of Wisconsin Eau Claire
Cards for RISD exhibitions and alumni giving.
RISD
Print — With and for Rhode Island School of Design