Kaleb Durocher is a designer based in Minneapolis, working across print, digital, motion, and environment.
Raised by an art teacher and an engineer, he strives for opposites in his work → na&iumlve imagination and a pursuit of the improbable, powered by efficient process and obsessive precision.
Currently working at Latitude and previously at Fellow, All Boats Rise, Dreyfoos School of the Arts, Rhode Island School of Design, and April Greiman Made in Space
Clients include adidas, Google, Hydro Flask, Munchkin, New Balance, Puma, Riot Games, Whole Foods Market, Under Armour, and Zoetis
Please get in touch at info@kalebdurocher.com
© 2019 — Site built using retina.js by imulus, Cycle2 by malsup, and Transit by Rico Sta Cruz — Set in Roboto by Christian Anderson — Photography by designer unless otherwise indicated
We worked with adidas to art direct photographer Marcus Smith in shooting four adidas athletes on ice. Then we developed a 'fuck off' aesthetic to bring the campaign to life.
After establishing creative, we open-sourced the design, creating guidelines and toolkits for all 31 NHL teams.
Creative Direction: Jason Strong, Project Management: Jason Berry (adidas), Account Direction: Ali Weber, Art Direction and Lead Design: Kaleb Durocher, Art Direction and Retail Fixture Concept: Robb McNeill, Photography: Marcus Smith
Integrated Campaign, Art Direction — With Latitude for adidas
I created the title installation and catalog for an exhibition focusing on photographic collage and impermanence.
As viewers walked down the hallway toward the gallery entrance, the letter fragments began to solidify. Just as they entered the gallery, the pieces came together to create the fleeting illusion of readability. A couple steps after they entered, the illusion was gone.
Exhibition Design, Book Design — For University of Wisconsin Eau Claire
adidas asked us to expand upon their Deerupt SS18 campaign to reach two distinct North American audiences.
We teased multiple colorways on social, launched our integrated campaign in New York, and followed through with a differentiated retail program.
Part of the Deerupt SS18 campaign by adidas.
Creative Direction: David Waters, Design: Sandra Huynh, Kaleb Durocher, Project Management: Jillian Wendt (adidas), Saxon Trobaugh (adidas), Production: Blue Ox, Photography: Wes Glenna, Retouching: Peter Hunner
Integrated Campaign, Art Direction — With Latitude for adidas
League of Legends is one of the most popular games in the world. But an IP born from digital needed help to achieve art book status.
Our team collected, curated, and designed 320 pages of character commentary, sketches, and final art. I designed the cover, refined the layout, and led print execution.
The Collector's Edition sold out within hours.
Creative Direction: Shawna Davis, Art Direction and Lead Design: Regina Ruperto, Design: Kaleb Durocher, Photography: All Boats Rise
Book Design — With All Boats Rise for Riot Games
With 100+ million players, Riot always knew they'd need a free version for the masses. So after shipping the book, I worked on a team that brought the experience back to digital. View
Kotaku liked it.
UX Direction: James Whetton, Creative Direction: Shawna Davis, Art Direction and Lead Design: Regina Ruperto, Design: Kaleb Durocher, UX: Andrew Saunders, Development: Andrej Pavlovic
Digital — With All Boats Rise for Riot Games
I hypothetically rebranded an organization fighting to preserve the temperate rainforests in Alaska.
Rainforests are categorized by an annual precipitation of 68 to 78 inches. The only difference between a tropical rainforest and a temperate one is temperature. Although the coastal temperate rainforests of Alaska don't receive as much attention as those in the Amazon, they are still endangered.
Identity — Student work
I created an identity for a theatrical production of Bent.
The pink triangle is recognizable as the symbol identifying gay and lesbian prisoners in WWII concentration camps, but remains effective as visual punctuation, even if the viewer isn't aware of its history.
Identity — For University of Wisconsin Eau Claire
Each letterform is made from a single gilded band that wraps endlessly around itself.
Available in multiple weights for multiple income brackets.
Type Design
Cassette art for pop experimentalist Dan Casey.
Packaging — For MJMJ Records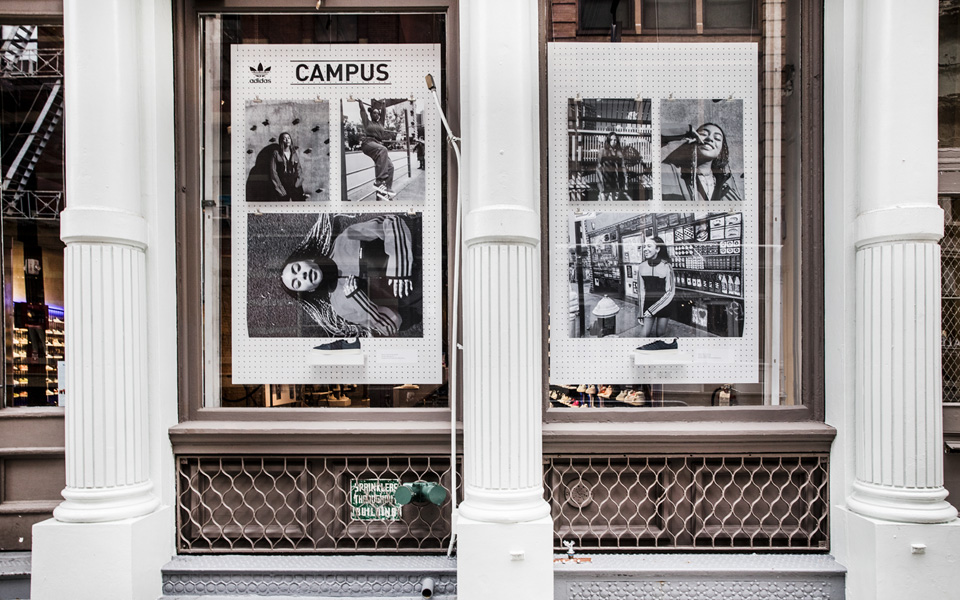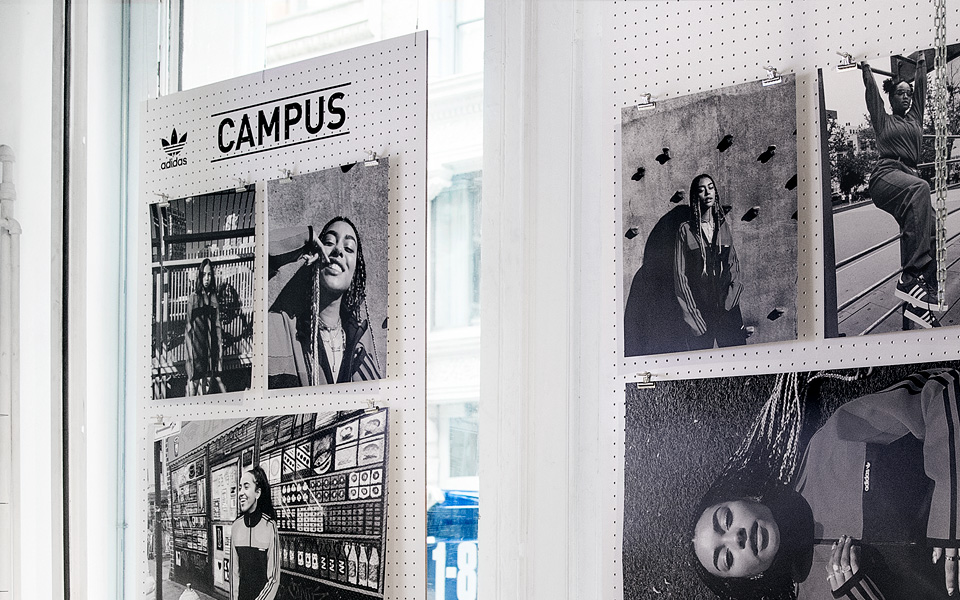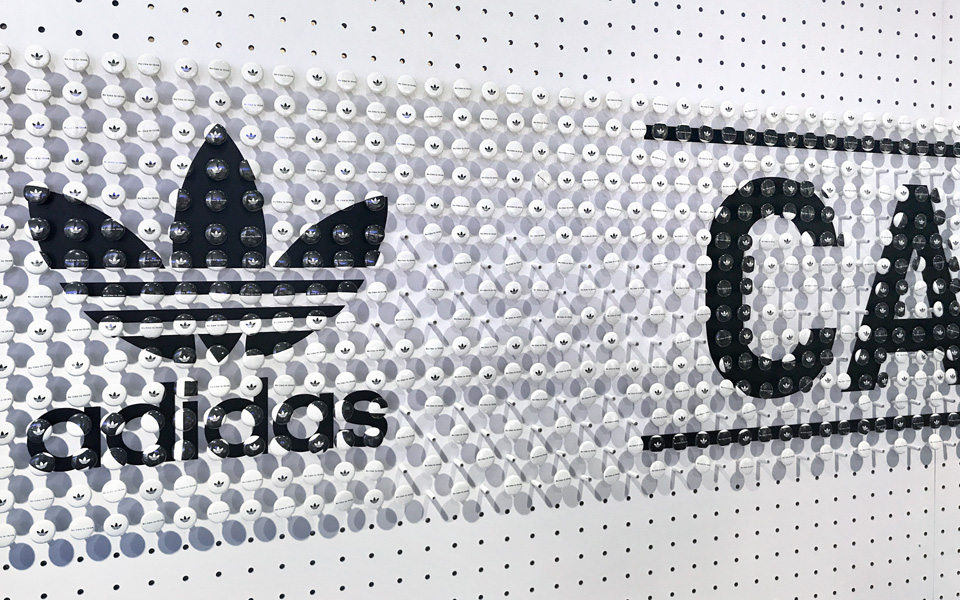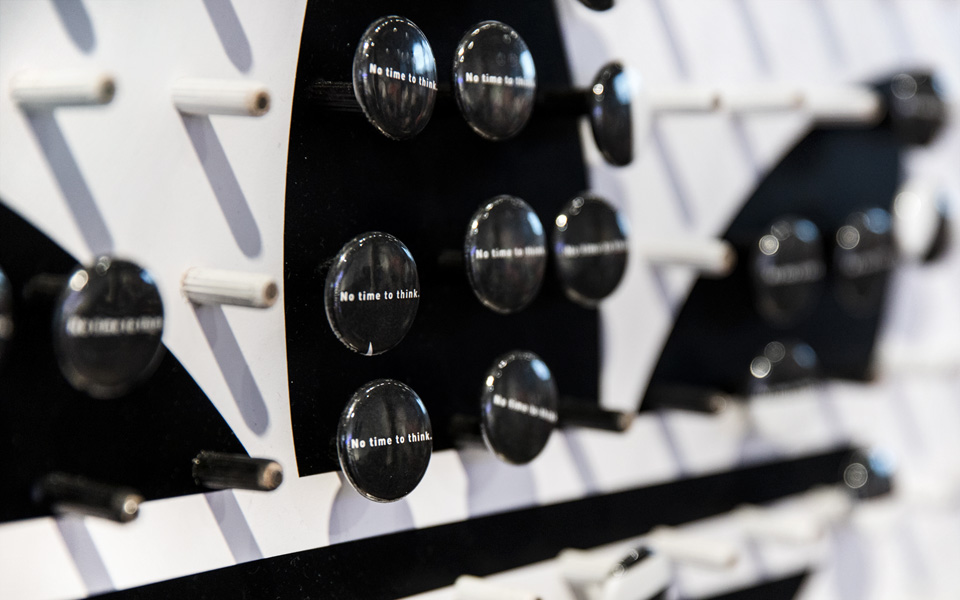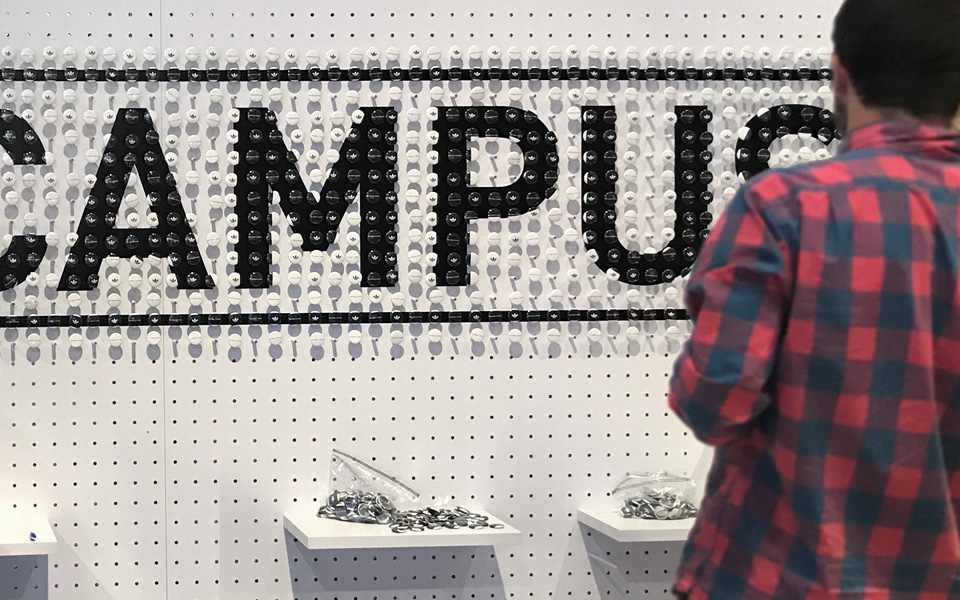 There's nothing bolder than a global brand handing control of a campaign to a group of high school artists.
Brands misuse words like 'authentic' and 'hyper-local' when trying to connect with savvy consumers. They spend a lot of resources trying to relate to them, when in reality they should be working with them.
We asked five groups of high school student photographers to explore their city and visualize the campaign tagline 'No time to think'. I art directed these teams and designed an installation with their work.
Part of the Campus FW17 campaign by adidas.
Creative Direction: David Waters, Art Direction and Design: Kaleb Durocher, Photography: Amber Alicea, Deannelys Corcino, Shaniyah Dent, Camren Hernandez, Laura Moronta, Pankey, Alani Reid, Freddy Reyes, Project Management: Zach Rambo (adidas), Activation: Hilary Bildsten (adidas), Production: Morgan Jappe, Fabrication: Project Visual
Art Direction, Exhibition Design — With Latitude for adidas
Go back
or get in touch at info@kalebdurocher.com